Q. When is the South Dakota pheasant hunting season?
A. The regular season traditionally opens the third Saturday in October. The 2016 season opens October 15, > // closes 2017 January 1,> Click here for additional information regarding pheasant hunting in South Dakota.

Q. What is the daily limit and possession limit?
A. The daily limit is 3 roosters, and the possession limit is 15 roosters, taken according to daily limit. The limit accrues at the rate of 3 birds a day, and 15 birds may not be possessed until after the 5th day of hunting. Additional information can be found here.

Q. How do I purchase a South Dakota hunting license?
A. You can purchase your non-resident small game hunting license on-line here. Or, you can purchase your small game license at the locations listed here.

Q. Are guests allowed to bring their own dogs?
A. Yes, dogs are more than welcome at Hunters Dream, provided vaccinations are current, the dog is obedient and fully-controllable using voice commands or electronic collars. Hunters Dream provides professionally trained hunting dogs.

Q. What airport should I fly into?
A. The nearest commercial airport is Sioux Falls (FSD) 70 miles east on Interstate 90. Wright Brothers Ltd., here in Mitchell, is also an option if you are looking for a nice private airport. Their contact information is 605.996.1228.

Q. What are your recommendations for accommodations?
A. We recommend either the Hampton Inn or Comfort Inn in Mitchell, SD. Our hunters have been staying at these places for years and have never had a problem. Please visit our resources page for additional options.
Q. Does Hunters Dream have airport shuttle service or car rentals available?
A. Yes, airport pickup and delivery is available for a fee. If your group wants to experience the city, go to dinner or just check out the scenery, we have rental vehicles available for your convenience.

Q. What size shotgun and shells are recommended?
A. A 12 gauge shotgun is most effective and will prevent the crippling of birds with smaller gauges. Hunters Dream will provide 12 gauge and 20 gauge shells for hunter's use. Hunters will have to bring their own shells for all other sizes. Guns can be supplied as needed with prior arrangements.

Q. What items should I pack or bring for hunt?
A. Shell vest, orange cap, waterproof boots, rain gear, hunting license, gloves, cooler to transport birds (if driving) and shells if not shooting a 12 or 20 gauge.

Q. Will we need our own rental car for the hunt?
A. No. When you arrive at our meeting destination (Hunters Dream 4501 N. Ohlmon ST, Mitchell, SD), we have parking areas for your personal vehicles. During the hunt, we will use our bus fleet for transporting your group to and from the hunts.
Q. How soon should I reserve a hunt?
A. The sooner the better. Due to our high number of return clients, we recommend early bookings to ensure dates of preference. Please feel free to contact us if you have questions or would like to check on available dates for your SD pheasant hunt.
©Hunter's Dream, LLC | Site Designer ::Labradors Unlimited.Com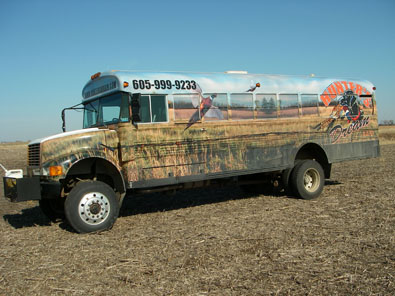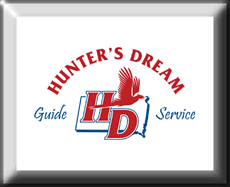 Links will load Slow please be Patient